I never thought I'd say this, but I've been getting a lot of email about Martha Stewart lately.
Everyone seems pretty pissed off that we're airing this, and from what I gather it's mostly because it's an American show. I don't remember this kind of outrage when we quietly picked up syndicated episodes of Frasier and Arrested Development to go along with our Simpsons slot. Remember those somnolent afternoons in the 90's when we aired American soaps back-to-back? No one seemed too mad about that.
And if you want to talk Canadian content, there are certainly no complaints about the seemingly 67.5 hours of Coronation Street we air in a week. Strangers to our country must think we Canadians have a collective, overpowering case of insomnia. By gum, the complaints come in when Corrie is disrupted for any reason – say, a Federal election or, oh, the Olympics. Just ask the poor saps who take the audience complaints.
Is it Martha's public dishonesty? I wonder, since I haven't had a single email about Triple Sensation.
No, it's something about Martha herself. Having never watched her show, I ventured to find out what kind of heinous propaganda she is spreading: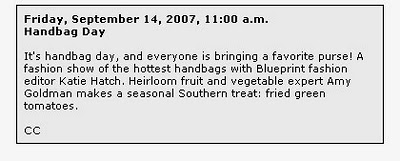 God. American handbags. Handbags of ex-con immorality. Handbags of shame! And don't get me started on the fried green tomatoes!
Maybe I'm missing something, or I'm a bit distracted. Maybe we should just bring back some classic Canadian lifestyle programming: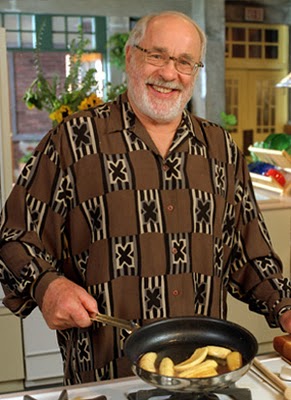 That's right – the Urban Peasant. He was one of ours once upon a time, before we lost him to the Food Network. If Martha has to go, let's bring back James and his… whatever he's cooking in that photo.
It's the 11 a.m. slot, after all. Does anyone know who is watching?