It's Friday, and like a Facebook search for "Leah McLaren," I have nothing for you.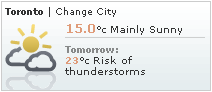 It looks like it's going to be a lovely day. So why not post an unsubstantiated rumour in the comments? Your boss will be so busy doing "damage control," you will be able to slip out to the park for an ice-cold Coca-Cola.
Keep it clean. Keep it anonymous. Don't get any on yourself. And anything mentioning "Canadian Culture" will be deleted without prejudice.