Second Life is a rich virtual world providing all the pieces you'll need to make your own Canadian public broadcaster. Just how you want it! Mix and match any of the parts you like, but note that one Jian Ghomeshi must be used with each kit.
Our new, innovative environment will require innovative staffing solutions! Fleshy avatars of real employees will be joined by the Shades Of The Redundant, the Ghosts Of The Disappeared Who Shall Not Be Named, and the SemiTransparent Who Are On Their Way Out.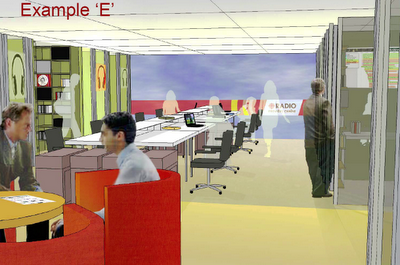 To free up space all those clunky computers will be removed from CBC.ca. Some sexy laptops will remain, but they are not to leave the office. An ominous countdown will be installed on the wall. Promos for The Hour will be piped in 24-7.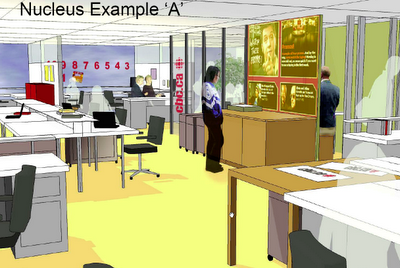 Entire environments will be built for shows that last one day. Remember that lady sitting in the back in the last slide? Here she is again! No, it's not the work of a lazy concept artist. She works in both places. Or rather, she "multitasks." Errant cameramen roam the environment looking for local breaking news.
Rest assured! Just like the old bricks and mortar TBC, the minorities will be kept safely behind glass here, too. They only think they can get in!