Blame Allan.
~O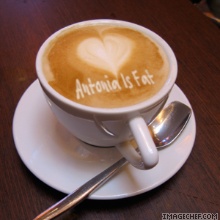 No one word is more of a dagger through the heart of a woman than the word "fat". Also right up there is "pig" and "slut".
Guys learn this at an early age, and the married ones stay married by quickly explaining they meant "phat" as Snoop Dog would once have said.
(phew, that was a close one)
I wonder which words drive the beautifully stylish women of Montreal nuts.
Or is this a universal truth?
AZ wants to change the world by writing a column on the bigger picture of the way we live, when her deepest obsession is clearly her own circumference and general size, down to her toes.
But trouble yourself not, AZ, because it still holds true that it's not what you have, but what you do with it.
I mean, have you seen Christine Blatchford's face?
And I'll bet she still … scores.
Allan
Living Columnist
(until AZ finds him)