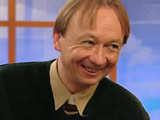 Like you, this morning I woke up and opened the Globe and Mail and found that John Doyle had totally ripped me off.
He's not the first newspaper columnist to do this. And it's not the first time he's done it. It doesn't bother me much.
Maybe because this is a blog, he thinks that whatever me or my readers write is free for the taking. His MO is to lift what he needs, discuss it in his column, make a vague reference to anonymous degenerates, and then downplay the importance of the information itself.
If the validity of my stuff was so suspect, you'd think he'd leave it out of the column altogether. But this has been going on for months.
I was going to let it pass, but this article comes on a very auspicious day. Also, I have some time to kill and this won't take very long.
Last night at the Drake Antonia Zerbisias explained to a packed room why she won't be writing a column on media criticism any more. It was all off the record but from what I understand it was a cracking good monologue and she also talked about media concentration and the big boys telling you what to think and do.
And so, today she starts her Living column and that's it for media criticism in Canadian newspapers.
Antonia wasn't alone last night at the Drake. There were other media types there telling stories from the trade, so let me get in on the fun and tell you a story about John Doyle:
Back in the halcyon days of the 2005 Lockout, he was a big fan of this blog. When I took jabs at CBC management he was one of the first newspaper columnists to clap.
Flash forward to early 2007, and I was part of a "national disgrace," had descended into "infantile nonsense" and displayed "hilariously badly written hatred of real journalists."
Keep in mind that I wasn't even blogging at the time. I was a month into a hiatus.
So what had happened?
I'm still writing the same juvenile nonsense, it's just directed at him and the Globe sometimes. I said I fell asleep during the Globe's Live Chat With John Doyle. I called Gayle MacDonald "Gayle HackDonald" for making up a story about CBCers calling the police on Canadian Idol, and threw in a dig for summertime sad sack Andrew Ryan for good measure. I wondered why Doyle and Ryan would each give the season premiere of Dragon's Den a bad re-review one week apart from each other. I said that Hal Niedzviecki was "probably not a total idiot" and followed up by outlining his idiocy. A common tactic for me.
According to Doyle the only bright spots in this national disgrace of online media criticism are Dead Things on Sticks, which is unfailingly supportive of Doyle, and TV, eh? which unfailingly avoids an opinion on anything.
Clearly I had fallen out of favour.
Doyle is a big supporter of analysis and criticism. Except when it's aimed at him and his newspaper.
And I also said once that I wanted to write a post called "To Hell with John Doyle."
Well, here it is.
Let's see you steal this one.