A few months ago I wrote about billboards. Remember that? Did you notice that the Strombo billboard is still up, a year after the city ordered it taken it down?
Cheeky bastards.
2007 is a good year for "promos." Those are "advertisements," by the way.
The CRTC loves them. Portugal won the war at CBC.ca. And now CBC Communications wants to put some huge "promos" up on the south and west sides of the building, right over the Glen Gould Studio.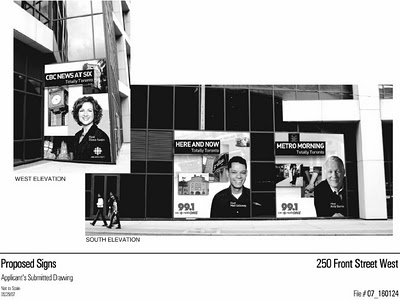 Even City Hall staff think it's too ugly to allow.
Staff does not support covering more windows or doors with signage. This would add to an already cluttered building. The pattern of windows is part of basic architectural integrity of a building and involves a two-way relationship – being able to see inside as well as to see out.
They aren't buying our claim of a magical "one way fabric" that will let the sun shine in and CBCers to see out. It's impossible. These new signs will cut us off even further from the outside world, if such a thing were possible.
Inadvertently, they are an apt metaphor for how CBC Communications likes to communicate. One way. Controlled. More diatribe than dialogue. It seems transparent, but if you look closely you can't see a godamn thing.
Funny how they can get these window stickers up tout de suite, but they can't actually wash the windows until September.
Now, I'm no communist. You own a building, you should be able to do what you want to it. And advertising is part of a healthy democracy.
But if your raison d'etre is to serve the public, why bludgeon that public and passers-by with chintzy Andy Barrie ads? We may scoff at CITY-TV, the crassest of the broadcasters, but one thing they really understand how to do is engage the public and their audience and create excitement on a street level. Most of them are teenagers, sure, but there's no reason we can't do the same thing with old people.
The Mövenpick was still empty the last time I checked. This is across from the CN Tower and we still can't rent it out. So can we get out of the billboard business and the "promo" business and even the real estate business and get back into the public fucking broadcasting business, or what?
Is it too late for that?
They make a decision on these signs on June 26th. Before that you can e-mail councillor_vaughan@toronto.ca and tell him what you think. If you're interested in fighting billboards you can join the Billboard Battalion. And of course you read illegalsigns.ca?