Sent to me by our friend Allan.
Enjoy.
~O
Is it wrong to associate the swiping of security cards as you enter the CBC proper with the symbolic severing of the dangly parts that men have below the belt-line?
When insidethecbc.ca recently posted a note about meteorologist Clare Martin moving to Vancouver, I submitted a comment.
It was disallowed.
You see, I made the mistake of implying something that had to do with s-e-x.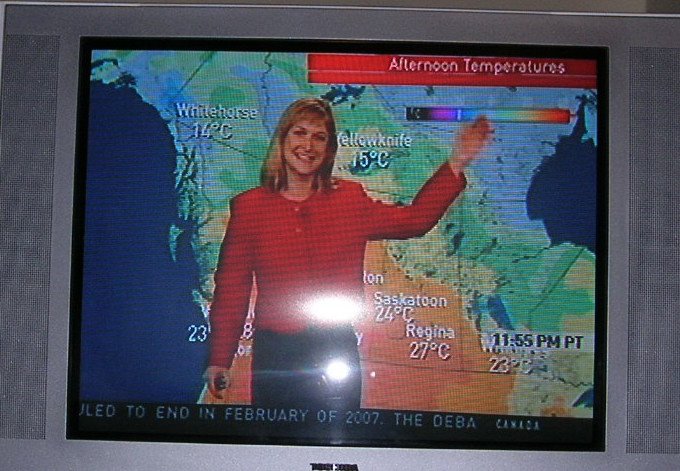 I suggested that Clare's popularity has as much to do with her well-tailored pantsuits as it has to do with her "perkiness".
Also that her job did not really require a brain, and that Bif Naked could get better ratings.
Tod couldn't handle it, and my juvenile opinion disappeared into the ether.
But his censorship is, I think, indicative of the hypocrisy that pervades media in this country.
We want all the toys and culture of our American neighbours but still reserve the right to look down our noses at them.
With the exception of the odd billboard for lingerie or a chubby in her underwear, our media is uniformly agreed that Canadians don't get horny.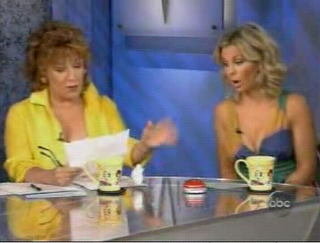 In fact, the slightest hint of passion is to be suppressed.
Take, for example, two recent clips from the mass media of the U.S.A.:

http://www.youtube.com/…
You won't find these kind of fireworks and free speech on Canadian television or radio; certainly not on the CBC.
What you will find is this: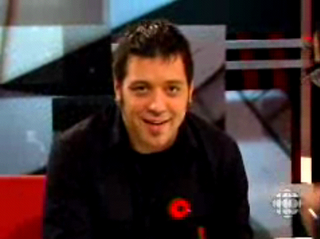 http://www.cbc.ca/thehour/…
George laughs, thinks this is cool. Shooting blindly in hopes of killing the bad guys.
Yeah, that's really funny.
Some might find this horrible and obscene, but at least it's not about people having sex.