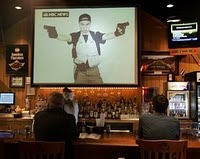 When I saw those Cho videos and pictures on NBC, my first thought was "Maybe they shouldn't be showing this."
And when Tony Burman felt the same way, and said that CBC News wouldn't be showing them, my first thought was "Finally someone in the media shows a little class, and thank God it's us."
I felt a lot of pride.
Then I went to msnbc.com to see every scrap I could find.
Having watched this play out for a few days now, I'm not so sure hobbling our coverage is good for the CBC, good for the Canadian public, or good for anyone, for that matter.
Let's face it, it was a moral decision. And while a lot of people agree with it, it's not like we don't have rules for this sort of thing.
"The Corporation itself takes no editorial position in its programming."
"The broadcast media in particular have an obligation to be fair, accurate, thorough, comprehensive and balanced in their presentation of information."
It's very hard to defend the decision in light of our own policy. And I'm no coldhearted policy nut. Obviously. Sometimes the rules need to be bent.
And Tony is the boss. If he can't bend them, who can?
Do Canadians want the CBC to filter news through his morality? Preliminary reaction from last week suggests that amazingly, many of them do. Yet I have to wonder how many viewers applauded Tony for his decision, and then went somewhere else to see what the CBC refused to show, just like I did.
That pride I initially felt started to look more like cheap nationalism and maybe snobbery. I was proud of the CBC and proud of Canada. But let's face it. What I was really feeling was superiority over the bloodsucking American media, and maybe even over the bloodthirsty Canadian audience.
And a lot of our coverage over the following days revolved around criticism of NBC, and why we weren't showing the material. It makes me uncomfortable to see Tony Burman on CBC News being interviewed by CBC News for a story on Tony Burman taking the high road on CBC News.
If it were a Canadian story, and Tony held a similar envelope in his hands, would he make the same decision? Would I want him to?
One of the many experts on TV, forensic psychologist Michael Welner, said on Good Morning America:
If anybody cares about the victims in Blacksburg and if anybody cares about their children, stop showing this video now. Take it off the Internet. Let it be relegated to YouTube.
If we fail to report the news, or fail to report all of the news, people will go to msnbc.com or YouTube or their neighbour or their blog or just go ahead and upload it themselves. They will and they do. If as a news organization we make moral decisions on what news people should see, then the audience will eventually give up on us.
It's as simple as that.