On a nice day with people milling about the TBC, CBCers outside dodging work or getting coffee, the brilliant sun shining on the building and the sidewalk, I'm reminded of the lockout of 2005.
How sad is that?
With this dreary weather at least my thoughts are my own and I feel less like a clockwork orange. Although walking around the TBC is not so fine.

Hard to believe you're standing in front of Canada's Public Broadcaster here.
Now, we sold out our corner to the International Academy of Noserings and Big Portfolio Bags but the other corner is home to a none-so-subtle "fuck you" from CTV. One that particularly stung during that same lockout, and which continues to irritate the hell out of me, if I'm being honest.

Rami Tabello has an excellent blog called Illegal Signs. What he does is check the permits issued to billboard advertisers to make sure that what they put up on the street matches what the city of Toronto signed on for.
It turns out that most of the billboards in Toronto are illegal, and he has the documentation to prove it. It's really quite stunning.
I emailed him about the CTV billboards at John and Wellington. He was quite familiar with them.
They are definitely illegal, the question is only how much.
The high voltage of the hydro station behind them complicates things. The ad company was supposed to build a canopy along John to protect pedestrians, presumably from live wires. This was never done, so the permit may very well be void.
In fact, they got permission to cut down 4 city trees that were blocking the view of the ads. In exchange they had to build that canopy. And they still didn't build it.
At the very least, Rami can nail them for illegal aspects of the billboard, such as "unlawful nightime illumination" along Wellington.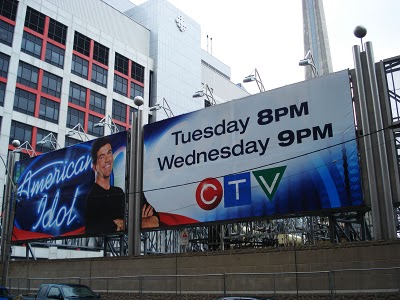 Expect a full report from Rami and his team soon.
But while we're on the topic, this billboard at Front and Simcoe, just down the street from the TBC, bathing us in the monumental awesomeness that is Strombo, is 100% illegal. There's no permit for it at all.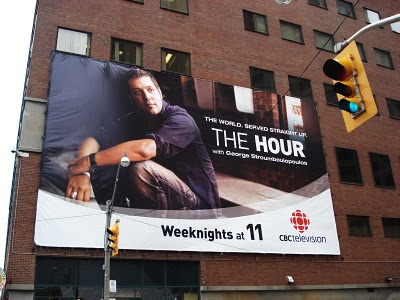 Not only that, but the city of Toronto sent them an order to take it down within 14 days. This was in late July of 2006.

As the Officer noted last year, it was advertising H&M, not The Hour.

So can we take it down, please?
And while we're at it, might as well take this one down, too.

At least CTV is advertising shows you can actually watch.