They said I broke my back.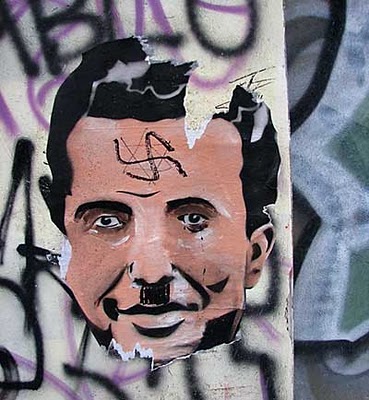 They said that I was smoked out. That I was found out. That I was burnt out. That the committee that writes this blog had "creative differences" and squabbled itself into oblivion. They said that I ran out of things to say.
And in the meantime Stursberg got his hit, and then another. The designers were laid off, and then a few more. And then a few more. In the meantime we launched Living In Obscurity on the TV and Radio 2: Electric Boogaloo.
Through it all we tried to tell Canada and ourselves that we weren't so beleaguered after all.
And I kept quiet.

Yet nerves are shot as we lurch towards year-end and senior management get queasy at the thought of regime change and Life After Bobby. They lash out at their Friends in defence of themselves and their careers and their selfless dedication to public broadcasting. Gill Deacon gets retooled with extreme prejudice and it becomes clear that someone up there loves Jian Ghomeshi.
And I don't mean Our Lord In Heaven.
It's 2007 and the Year of the Pig is in full swing.
I'm back online, but to tell you the truth I never really left.
(Rick Mercer stencil by Posterchild, taken from his excellent Blade Diary)