Why isn't the CBC.ca homepage very good?
I mean, it just doesn't "work."
If you've ever felt this, you aren't alone. Truth be told, focus groups have also ripped it to shreds. Alice isn't too happy with it either.
And when the site crapped out not long ago and a makeshift page was put in it's place, people here and elsewhere said they preferred it to the real page.
Then you had the astonishing post on insidethecbc where Blake Crosby told you how to recreate the look, scraping away all the barnacles and eviscerating the revenue stream, removing the ads, promos, news ticker, in-depth, giving you a straight shot of news.
It was a cry for help disguised as a how-to.
Now, to be fair, this page has a lot of jobs. Some people come here for news. Some come to find radio feeds. Some come for weather. Some, God bless 'em, come for TV schedules. And don't forget that the Kids' stuff is more popular than anything else on the site.
In the hands of a skilled artist, serving these needs is not insurmountable, and I truly believe we've some of the best designers in the world working here. But they are not always allowed to design. They are hamstrung by politics and just as embarrassed by the page as anyone else.
The CBC.ca home page is dominated by an political line drawn straight down the middle that sets the boundaries between "news" and "everything else." There may be better ways to design the page, but this is the one that satisfies the most dictators.
In fact, the nerds at CBC.ca have taken to calling the 2 sides of the page the Spanish side and the Portuguese side, in reference to the Treaty of Tordesillas, in which Spain and Portugal arbitrarily divvied up the world.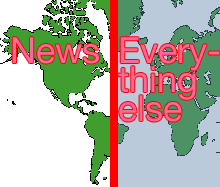 Of course, this is a nice, easy solution for kings and executives, but it's a bitch for everyone else.
In fact, on some days the page seems to spin out of control, with seemingly no one in charge and warring factions wrestling with each other, threatening to tear the page asunder.
As I write this, Andrew Craig is on there twice.
For some real hilarity, keep your eye on the "Latest Video" section with the garish WATCH NOW >> button. It's being pulled directly from the Newsworld feed, so you never know what you're going to get. Sometimes an ad. More often, a talking head with her eyes closed.
Now that's dynamic content!
But in the rush towards progress, "fuelled by a combination of adrenaline and Gravol," conventional wisdom tells us that it has to be faster, and louder, and more lurid or people won't see it.
Just about the only place on CBC.ca where you can get a bit of peace these days is the media page, with its calm, reassuring lines:
Which invariably remind us of something else:
CBC.ca nerds, I beg of you, before it's too late! Tear off your shackles and listen not to these petty mandarins.
You
are the keepers of the Promethean fire, not them. That's why they hate you.
So design, for God's sake! Design!
Design like hell!