Now Joe Clark has spent much of his life working on making media accessible to those who don't hear or see very well, if at all. And for some time he's been trying to get a research project off the ground, that would write, test, and develop training for a new set of media accessibility standards.
The end goal would be an objective set of rules for captioning, audio description, subtitling, and dubbing that could be used worldwide and benefit millions of people.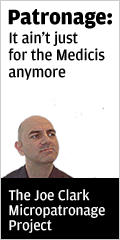 Being a freelancer and consultant, Joe always gets pulled off it. But he wants to take it seriously and to do so, he has a unique solution. He's asking the community to be "micropatrons," for each to donate a little, which will support him while he raises the millions the project needs.
Now statcounter tells me there are 1,000s of media people who read this blog. I know because you sometimes do it from work. Who cares? I'm not going to tell on you. Your boss is reading too.
The point is that we have media jobs and this is aimed at us. If anyone should understand why universal access to the media is important, it's us. Not because we feel sorry for the "disabled," but because it's basic human rights and media is what we live and breathe. It should be for everyone, period.
Now I'm serious about this and I hired Ottawa artist and writer, CBC supporter, and regular Tea Makers commenter Dwight Williams to design me a special computer wallpaper for Joe's micropatrons. This is no slapup Photoshop job. Dwight drew this thing on paper and then scanned it, somehow capturing the Tea Makers experience, if such a thing exists.
If you're a micropatron, send me an email with "I'm a micropatron" in the subject line, and it's all yours. Just be sure to give Joe 5 bucks.