Sharp-eyed man in the street and Tea Makers regular commenter Johnny Happypants points out these promotional oddities less than a block away from the CBC: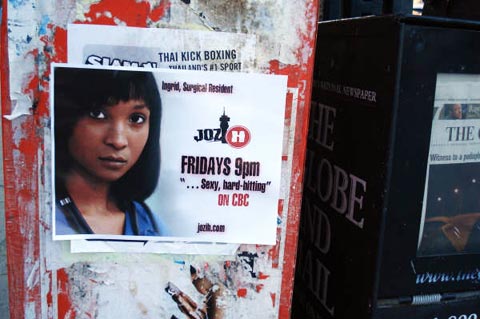 Who knew our boring old publicists would be replaced by cool, paste-toting vandals? And why are the "sexy… hard-hitting" quotes not sourced? And why doesn't the web link go to CBC.ca?
For that matter, how did a show with such a crap name get on the schedule? Don't they test market these things? Allow Johnny and myself to suggest Joizi Boyzz.
I smell a renegade publicist, perhaps Canadian, perhaps South African, responsible for these prosaic street ads. If they were going to do it, why not go ahead and do it, like the people at Monkey Warfare what attracted so much attention at this year's TIFF?