Another submission from regular Tea Makers commenter and undercover operative Allan.
Enjoy.
~O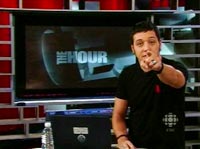 In the audience for the Halloween taping of The Hour, and I admit there's really only one question on my mind.
Is this guy for real?
If I had wanted to critique the show I could have stayed at home, but I needed to see him up close and personal to completely understand the phenomenon that is George Stroumboulopoulos, the thinking man's pop culture groupie.
My friend Julia had emailed a response to my earlier posting about the show.
"Mike and I watched the Hour yesterday for the first time. He interviewed Wikipedia dude who was a real freakin DUD! Very blah interview, and George asked the same question 3 times…. Strange, but I still love him. Everyone does. He's freaking fabulous."
Just as I suspected. The mania is real, and likely spreading.
Julia and Mike are both bright and talented, and recent grads of Ryerson's broadcasting course. They would have fit right in with the audience on this night; everyone is in their twenties (with one exception), and more girls than guys.
The theme of tonight's show is Fear, and already I want to leave.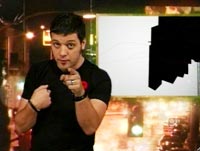 But it turns out to be a good night because most of the segments were pre-taped, which meant we got to spend a lot more time with George, who kept hopping toward us asking "any questions?"
Hard to think of any, because you realize that everything you want to know about him is already all over the internet at MySpace, Wikipedia, Strombo.com, CBC/TheHour, and even fan sites that can't get enough of thinking about George. And who can blame them.
Those adorable, black button puppy eyes that always look straight at you, his goth goes cowboy fashion style, and the easy energy as he hikes up his pants and lumbers his beefiness around without once tripping over the scenery, on a set resembling a strip club for the leather fetish crowd.
He asks what are some of the fears of the audience members, while a video plays of him holding and kissing a giant python, which turns out to be one his pets of choice.
After a few responses he turns to me with "what are your fears, sir?', simultaneously demonstrating what a polite young man he is while thrusting a dagger through the heart of my illusions of eternal youth, you little punk.
I answer "public speaking", hoping he would get both the drift and the joke.
Very quickly, it's 4:30 and tape starts to roll.
Another Hour of whatever catches the production crew's fancy, but no live guests tonight, and I'm almost grateful.
It's one of the conflicting elements of the show, presenting guests that nobody asked for. I resent having Josh Groban and Jared Leto shoved down my throat just because they decided to go on a publicity tour.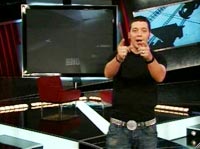 You'd hope the seemingly fearless Hour would be above that kind of pandering.
The show itself has always impressed me as being a daring, really good, After-School Special for high school seniors,. Hip and informative, and with plenty of those rapid video clips that the new generation of viewers demand, like the fun of watching a slot machine.
And yes, there's plenty of fun to be had at home taking this show apart. Why not invite the neighbours, make it a game.
But the thrill of being in the studio is the chance to see George interact with the audience, who remained seated after the show had wrapped, as if it had been telepathically agreed there'd be a debriefing.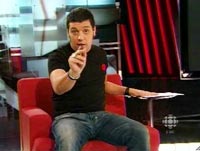 Our host reminisced about his early days in radio, joked about men who are afraid to commit, and was, not surprisingly, most eager to trade rock trivia.
Someone asked him if any of the people he had ever interviewed had made him feel a touch inferior.
George answered quickly and bluntly, "No".
He then remembered a time when he had been in a club and someone asked if he wanted to come back and meet Neil Young.
He said he couldn't bring himself to do it and had declined, looking away as he thought back on that moment.
Wow, George is afraid of a guy who sings like a girl.
Seems real to me.