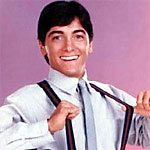 Did you know that from time to time a handful of employees are chosen to have breakfast with the President?
While this may sound as dubious as winning a date with Scott Baio, employees are not to simply bask in his Chachiness but rather converse with the man. Exchange ideas.
Better understand each other.
Back in the old Jarvis Street building, the CBC cafeteria was crammed but you could see Peter Kent or crazy Alan McFee sitting at a small table with radio technicians and TV film cameramen and suits from the "Kremlin." If you were on the early shift you always got a great smile from Ruth who ran the joint, and when Ruth died, Peter Gzowski opened Morningside with a loving tribute to her. Remember that?
We used to have a cafeteria in the TBC as well. But this was all seen as a money loser and a waste of space for something that was not part of our "core business." That is, eating together.
But these were places where people who didn't know each other could meet and talk and laugh and exchange ideas.
Better understand each other.
Rather than places to germinate new ideas and cross-pollinate with people you don't know, you now have to race the furtive Chinese IT guy to the microwave in the hallway.
Getting rid of the cafeteria was a dumb idea that not only made employees upset and killed morale, it possibly drained some of the CBC's creativity.
If I ever get to have breakfast with the President, I'll have to bring it up.