God bless the CBC press clippers.
For those of you who don't know who I'm talking about, let me explain.
Every morning the CBC press clippers wake up very early and read all the newspapers and magazines in Canada. English and French. They carefully clip every article that mentions the CBC and self-publish the results in a 'zine before most of us have had a cup of coffee.
This is the Sniffin' Glue for CBC executives.
It's also remarkably convenient for mystery bloggers.
Nothing that is printed on dead trees in this country escapes the gaze of the CBC press clippers. They are nameless and faceless, but I imagine them to be highly intelligent freaks who read every goddamn thing in the world.
And this may surprise you, dear reader, but as far as CBC senior management are concerned, if it isn't written on paper, it doesn't exist. And nothing I have ever written has ever made it into the 'zine.
Letter to the editor in The Kingston Whig-Standard mentions the CBC in passing? It gets in.
Half-baked column in the Estevan Mercury? It gets in, too.
Article about the slow hemorrhaging of CBC.ca, with 22 comments from current and former staff? Doesn't make the cut.
Antonia's blog? Not there.
Doyle? Front page every goddamn time.
Now, The National Post is dead to me. Except for what I read in the clippings.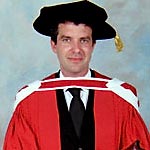 So if you read Rick Mercer's blog and saw his post on Conrad Black, you might have had a good laugh and then moved on.
But his post was one half of a he-said she-said in the National Post, and Black got to answer.
Now, I don't know much about Conrad Black. I don't think most people give a flying fig about Conrad Black. But the media cares, so we all have to hear about him.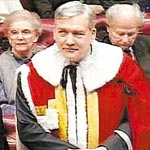 But Black's rebuttal (via The Monarchist) makes quick work of Mercer, is more accurate, is smarter, and even funnier.
Rick, Rick, Rick. When you sign on to do this kind of thing, make sure you get to do the "she-said," all right?