This morning was spent, as per CBC Employee Policy, liasing with other CBC managers, smoking Bob Hope, reinforcing our self-regenerating opinions, and dreaming up new, subliminal ways to discredit the current Prime Minister.
I waited patiently as Burman bogarted the joint, as he is wont to do, and I thought to myself: how come no one has stopped us yet?
I mean, for nearly 70 years, as Wedgie points out, the first question at any job interview at the CBC is: "Do you remain unimpressed by Israel's accomplishments?" Even the Jews answer "No." That is, if they want a job here. Strange, but according to our detractors, true. Or rather, truthy.
It was more than a year ago that I posted an article called "Why cbcwatch sucks," in which I laid out my disappointment with that site and the watchers of the CBC. Mike Connell, the webmaster for cbcwatch agreed with me.
It's no better one year down the road. It may even be worse. I think there's a need for real discussion on the CBC. That site is not the place for it. The comments sections are echo chamber for a few people engaged in a circle jerk.
It certainly doesn't approach the quality of Biased BBC. It's hard for me to judge the arguments on that blog, as I don't watch the original BBC programs, but the writing is lively and they hit several notes instead of the same one over and over and over.
The real contender these days is Stephen Taylor, who is doing more watching of the CBC than anyone, and is the one who did the Christina Lawand YouTubing a while back.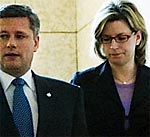 In fact, he's watching so much of it, the rumor is that Sandra Buckler of the Office of the Prime Minister is calling the shots, siccing him on journalists who are out of favour, and tipping him off to bits the PMO wants blogged.
If he isn't on the payroll, he might as well be.
Again, it's a site with an agenda, not a place for discussion.
The commenters believe that they're part of a movement of some kind, witnessing the end of the Main Stream Media and the birth of "the truth" in reportage.
But what the poor fools are getting is government propaganda, pure and simple.
And that doesn't do anyone much good at all.
Burman, newsdude, are you going to pass that or what?