Last night I watched the very very very good documentary 9/11: The Falling Man on Newsworld, and it reminded me of my own experience on September 11th.
I had arrived home around 9am and turned on my computer to get some news. I made coffee and when I came back to the computer, CBC.ca was still loading…loading… so I tried CNN.com. It was also loading…loading…
I figured my internet connection was down, and checked my phone messages.
Halfway through the first message I was out the door again.
When I returned home much much much later, my computer was still on and this is what was on the screen: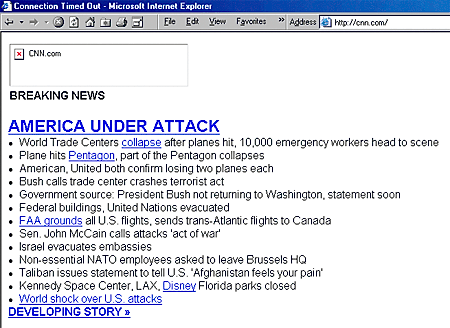 I've heard that some people praised the internet on that day, mostly for instant messaging. But for me, a fan of the internet, it exposed the web for what it really is. A toy. For rich people.
TV is much-maligned in many circles, but when push comes to shove, we all turned on the TV, and kept it on for days.
(By the way, Paul Gorbould wrote a behind-the-scenes account of what happened at CBC.ca that day. Scroll down to "2001: September 11.")
Purely by coincidence, yesterday I was also online trying to buy tickets for the Toronto International Film Festival. The website didn't work for hours, telling me cryptically: "send() error 10054." Finally it allowed me to order, and after I did, this is what was on the screen: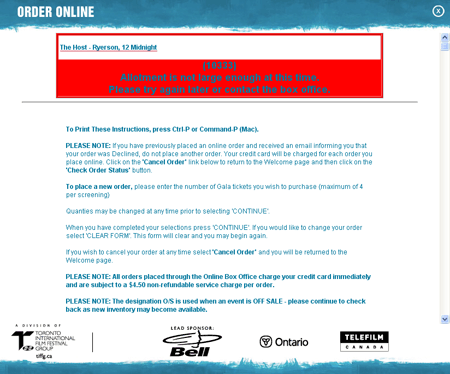 (By the way, I did like they told me and called the box office. Astoundingly, I got a busy signal. I haven't heard one of those in years. Isn't Bell a sponsor? Couldn't they have kicked in some call waiting?)
What good is the internet if it fails us on the day we need it most?