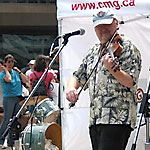 During the lockout last year I had a regular commenter on this site named "Laurence." It was only later I learned it was Laurence Stevenson, the award-winning OutFront producer and accomplished musician. He was briefly a member of the prog-rock band FM until they kicked him out. Nash the Slash couldn't handle Laurence's mandolin.
And now, I learn from Joe that Laurence has a blog. I'm flattered to be cited as an inspiration.
Let's hope he puts some music on it. In the meantime wet your beak with this, from the old lockout site, CBC On The Line.