I would love to bike to work, at least when the weather is nice. But everyone who does has had at least one bike stolen. Even Sook-Yin Lee, so I'm told. One guy I know has had 8 bikes stolen over the years! 8!
More than 1 CBCer has emailed me these photos of a man TBC Security really really really want to talk to.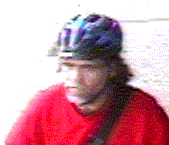 He's in his 40's, approx. 5'8″ – 5'10" tall with, and wears full bike-riding gear (Helmet, bike pouch, etc.). He'll arrive on a bike, and steal another by working on the lock of that bike in 30 second-1 minute intervals, and in between, he'll pace back and forth and talk (or pretend to talk) on a cell phone. He'll ride away on the stolen bike to somewhere close by to drop off, then come back to pick up the bike he rode in on.
Remember, all suspects are innocent till proven guilty, so don't take the law into your own hands. Approach with caution and call security.
Tell them Sook-Yin sent you.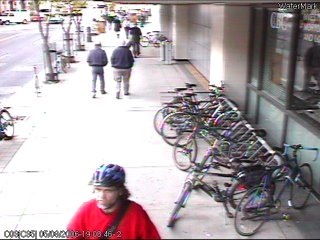 6:17 pm addendum: A tip?
"I don't know if this is in Toronto but!if it is that guy sure looks like a dude that would hang around my work 85% sure . I pass him fairly often too on queen street East of Moss Park where all the stolen bikes are sold in front of the apartment buildings."