Those kids need to settle down. We're trying to work in here.
Ok, ok, the Globe gets a good laugh over this, as do the rest of us. (Although we'll see how much the Globe laughs when Leah Mclaren's show debuts on CBC.)
In fact, The One is bringing the country together in its laughter and derision, which in a way fulfills part of the CBC's mandate.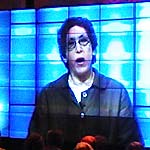 You know it's getting serious when we bring Ruth-Ellen back to her old job, and sic her on the media to handle the backlash:
"Just remember it's only week two," pointed out CBC spokesperson Ruth Ellen Soles, who added that The One is a 10-week series.
Yes, I remember. Too well. To the Star:
"And I'd like to just remind you that Fame Academy on BBC, which was the same format, did take a while to find its feet."
Again with the BBC?
9:04 pm addendum
Antonia Zerbisias made a few calls. The cops say one of their officers called for extra units, not a CBC employee.
This is getting funnier by the minute.
~O
11:05 pm addendum
The One has been cancelled:
"There are no plans for additional episodes. Thanks to all who participated in and supported The One!"
~O