As a CBC employee and its resident mystery blogger, I meant to watch the show, but was distracted. I only caught a few minutes here and there in the second hour. But just because I didn't see something doesn't mean I can't give my opinion on it, right?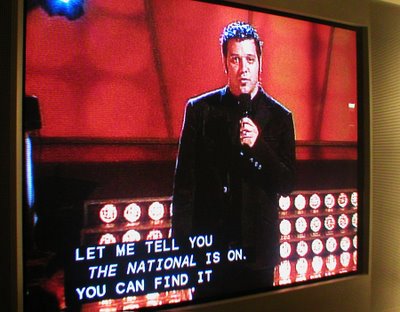 It's a bit rougher, sexier, and less polished than Idol, which I can appreciate. The contestants are allowed to play an instrument if they are so inclined, which mixes it up a bit.
But good lord, those kids cannot sing.
They dance like zombies. And not the Thriller kind of zombies.
Simon Cowell would tear them apart. In different circumstances, so would George Stroumboulopoulos.
It's weird to see him in a suit, without the nose ring, given the unenviable job of dragging salacious details out of the kids about their romantic lives, then asking the irritating judges for their fawning opinions about the crap music.
I'm so used to seeing him in charge, but on this show he plays the butler.
Despite this, I think the show will do well. The point seems to be that they will teach these kids to be rock stars, and it's still early days yet.
As for George, he should never have answered his cell, and just kept riding across Illinois.
4:54 pm addendum
Whew, those ratings are stinky. They might be better off having The National lead in to The One, rather than the other way around.
~O