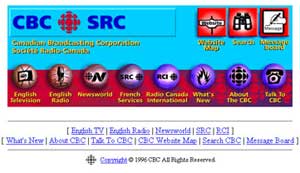 Knowlton Nash wrote the definitive book on the CBC with The Microphone Wars, which I have read several times and would recommend to anyone interested in topic.
It ends, however, in 1994. I asked Knowlton if he was interested in bringing the story up to date, and he said he wasn't. So for a time, I considered writing it myself.
If such a book were to be written, the rise of CBC.ca would have to be a major part of the story. And just as the early days of CBC TV and CBC Radio had its nuts, visionaries, and freaks, so did the early days of New Media.
Now writing a book is not like writing a blog. And I know Knowlton, and I know I am no Knowlton. It occurred to me that such a project would be a lot of work. Perhaps writing a book wasn't the way to go at all. That was more for Knowlton's generation.
Maybe, I thought, it should be a website. Something that wasn't filtered through me, but was written collaboratively by the people who were there. Something they could add to or edit easily. Something that the public could read for free, and add to as well.
So it was with interest that I saw the 10 Years of CBC.ca website today, which is kind of like that. There is a lot to click here, written by people who were there. An early favourite is Andrew Lundy with a nerdy yet frank take on Olympic coverage.
Now, the story I heard about the first CBC.ca webmaster (06/06/06 – Marilyn Persaud sets the record straight on this ~O) was that he was a young IT guy with a lot of ideas. He basically started the site on his own, with the help of a secretary who knew how to use Microsoft Office. Not many people understood what he was trying to do, but it seemed harmless enough. A typical CBC story.
The site took off almost immediately, even with not much on it, just a bunch of transcripts of the National. Spurred on by this early success, the guy put more and more online, and worked harder and harder on the site, and it took more and more of his time. It consumed his life and he was doing the work of 20 people.
Eventually, he had a heart attack and died. He was 29 years old.
I tried to find his name and his story on the anniversary site, but it doesn't appear to be there.