Have you ever taken a good look at the organizational structure of CBC Senior Management? Probably not.
There are actually 2 levels to it: the President and everyone else. But the artist, in her wisdom, has drawn some Vice-Presidents more equal than others: the VP's directly in charge of broadcast media, as well as George Smith, are a little higher that the rest.
This speaks volumes, but what I'm interested in today is who isn't there. Astute readers will note that there is no VP of Digital Media on this chart.
The French have the rakish, erudite Sylvain Lafrance in charge of "French Services," which means French TV, Radio, and Web, but when it comes to the English side, CBC.ca apparently runs itself.
So what? you say. But here's where the budget gets spent (taken from the Auditor General's Report in Nov 2005):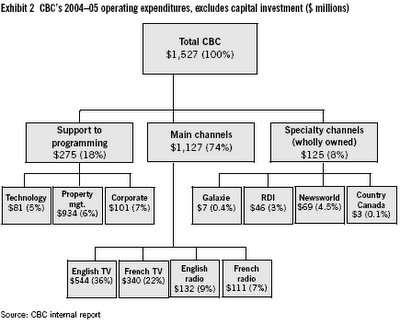 And if you refer back to the org chart you can match up the VP with the money. This is why you will see Sue Gardner searching the couches in the Artists' Lounge for spare change.
TV ratings have been steadily declining over the years, and that radio listenership has increased 2% in 10 years is a big deal. Yet at the same time traffic to CBC.ca has exploded. Amid many excuses, TV ratings were down for the Turin Olympics, but visitors to the website doubled.
So why, with all the success we have had on the web, and this now being the 21st century, does the web not exist at the senior level of the CBC?
Part of it is because many of the people at the top don't understand it. They don't even use it. But a larger part of it is fear.
For if there were to be a VP of CBC Digital Media, she would be a powerful beast indeed. And that power would not come from nowhere – it would come at the expense of some of the other fellows on that chart. And none of them want that.
Now, of course, CBC.ca does not run itself. For a little while longer we have an Executive Director of Digital Programming and Business Development, and he being the guy at the top of the ladder makes him the guy in charge. But at the end of this month he goes back to the company whence he came.
His new job?