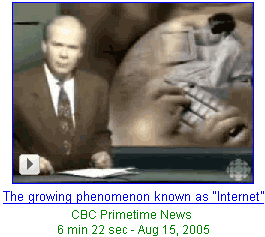 The CBC is conducting a podcasting survey to find out what surfistas want, when they want it, how they want it, and if they would possibly pay for it.
It's a good way to start. I urge you to take the survey, because once Phase 5 gets called in, it means things are happening.
Another fruitful avenue to explore would be to see what kinds of CBC content people are downloading without the CBC's consent.
Internet file sharing has been around for years now, and dedicated fans have been "ripping" CBC programming and offering it up for download since the beginning.
So what are they watching?
BitTorrent super-site The Pirate Bay has a great selection of old and new CBC content, including a full set of seasons 1 and 2 of The Newsroom, a large collection of Road to Avonlea, and some guy named "redhands" has been faithfully posting The Hour every day until his computer broke:
In fact, his high-quality The Hour rips are so popular they have made it to all of the torrent sites I checked, even though they are weeks old:
Also popular are the latest hockey games, and savvy hockey fans go to the vibrant Center Ice Forums, where they can get an amazing variety of games, or find them at aussietorrents.com, of all places: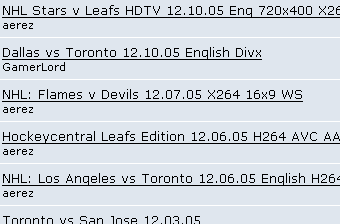 Canada's own #digitaldistractions is the go-to place for the Rick Mercer Report: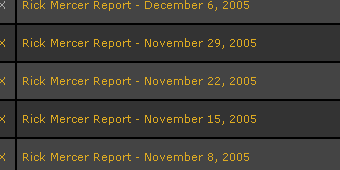 while torrentspy has a wealth of documentaries: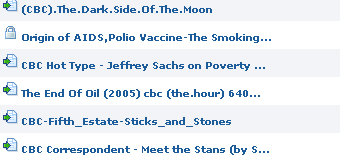 Intrigued, I downloaded the free P2P program eMule to get further up the food chain. I found the motherlode: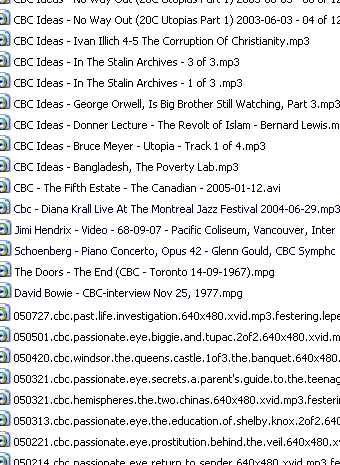 And lest you think that only nerds are doing this, a company called Cachelogic monitored internet traffic and found that the majority of internet traffic is taken up with this P2P stuff, most of it video:
The top 3 bands in this chart are P2P, and the bottom 2 are the rest of the internet. Like web sites and email.
This stuff is not just for kids and "hackers" trolling the underground. The searches on this page took me about 20 minutes to do and I found the sites through Google. I wasn't even trying very hard, and I didn't even begin to look for audio.
So surveys are nice and a good idea, but in many ways the people have already spoken, and they are way ahead of us. They want to download CBC content and view it at their convenience. They want our music, our news, our documentaries, our history, our Strombo, the sports – everything.
Well everything, it seems, except for the Antiques Roadshow.