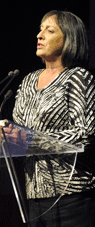 What are the odds that recently laid off "presenter" Barbara will be sitting in the red chair across from "respected journalist" George?
After 17 years of being only a voice on CBC Radio, you'd think that a Canadian audience would like to get a good look at her.
And she could explain why she's leaving, while looking across at the commodity the CBC considers more valuable than her.