Social Media Professionals and Nietzsche will tell you that you only get out of social media what you put into it. So it goes without saying that when you make fun of the twitter people, sooner or later you become that which you made fun of.
"That site," my friends, is this site. And noizangel is Nicole Winchester, producer for Steven and Chris. Calling tea Makers "ridiculous." Has she ever watched Steven and Chris?
Exactly.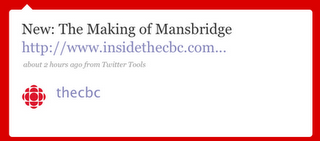 Now, Inside the CBC is starting to bug me. They're not only taking stuff from Tea Makers proper, but now they're twittering about it through some kind of Perpetual Twittering Machine.
They also did a big piece on the dangers of fake twitter accounts which some people are falling for. They're robbing the tweethole!
The site sucks so hard that even Google ignores it. A Google search for "insidethecbc.com" doesn't even return insidethecbc.com.
Besides, who's going to be fooled by these fake twitter accounts? Certainly not the media-savvy elites of Canadian broadcasting?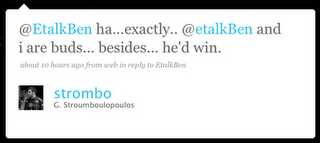 Best buds forever, apparently.
cbctom is on the case, however. Next week he's doing a special report that reveals that some lawyers representing Nigerian princes may not be all they seem.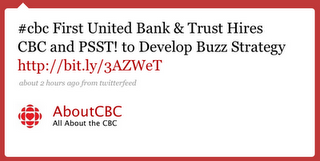 This is one of Tod Maffin's Perpetual Twittering Machines, and it pumps out CBC-related tweets all hours of the day and night. Lest you think the CBC is now developing Buzz Strategies (?), this is not the CBC you're looking for.
Now this guy also had the wrong CBC, but amazingly, he's got it right. In fact, writing this post about the CBC, I'm thinking of a ham sandwich.
To be perfectly frank I have no idea which CBC this guy is talking about, but I hope it's the one I work at.
Let me translate this tweet for you. The free Perpetual Twittering Machine that Canadian media relies on to update their free twitter services broke. So for 5 hours there was no free news on twitter for any of the freeloaders.
There's an old saying where I come from: "You get what you pay for."
Me, I like my tweets like I like my cigars: handrolled. By hot chicks.
Now that's a tweet! By a News Reporter, with a goddamn checkmark baked right into the handle!
Of course the big news this week in CBC twitter land was the announcement of the cbcnews.ca boss, @rachelnixon, formerly of the BBC and Nowpublic.com.
She may be the highest-ranking CBCer to maintain a twitter account. I combed her account looking for something interesting to read and fell asleep. The experience was not unlike reading the nowpublic website.
I thought everyone on the west coast loved the mary jane?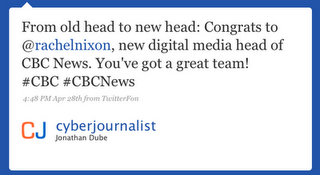 The most surprising thing to come out of the whole episode was the re-emergence of Jon Dube. You might remember him as the cybernetic manager of cbcnews.ca sent from a dystopian future ruled by rogue Blackberries to exterminate mankind and trigger Armageddon.
It turns out he's working at ABCnews.com. Who knew they even had a website?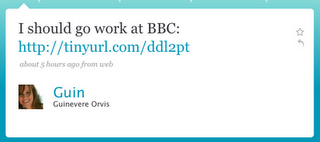 You and me both, sister. Fuck a big-ass duck, can I get a pip pip Cheerio, or wot?