79 people is a lot of redundant people in English TV. Is it too many people? Not enough people? The right people? The wrong people? Just how redundant are they, anyways?
No idea.
Nothing to do but wait for the bump bump bump and watch the new hires and uni grads get booted out to Wellington Street, blinking in the sunlight.
A lot of people read this blog. If you lost your job today, I'll pay you to make a Tea Makers desktop wallpaper, which I've always wanted. I'll pay you for your time and post it here with your name and a link to your résumé or whatever and quite a few people will see it and maybe one of them will offer you a job.
Not much, I know. My condolences.
April 21/2006 8:30am addendum: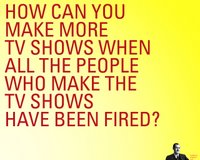 Someone has already taken me up on the offer I made last night. The artist wishes to remain Anonymous. It's not exactly what I expected, but I'm trying to remain flexible.
Click this picture for the fullsize version, and then right-click that and choose "Set as Background."
I still need more. Judging from the hour I received this one, I suspect the artist was at home, drunk. While part of a long artistic tradition, there's no need to do it on your own time. It's a cloudy Friday and there are 79 people sitting in front of expensive computers with pounding hangovers and nothing to do.
Why not make me a desktop wallpaper and a few extra bucks?
What are they going to do? Fire you?