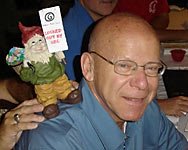 Funny, well-written, and amusing, Pedro the Locked Out Gnome always made me uneasy. Isn't the most insidious propaganda that which is the most enjoyable? It seemed to me that the veil had been lifted and we were getting, amazingly, both a literal and figurative CMG puppet.
Or perhaps it was just a locked-out lad having a laugh?
Looks like we might find out yet: the maker of the gnome started a new blog – The Making of Pedro – where he promises to reveal all, although he seems to have run out of steam already.
I hope he doesn't chicken out. Surely this gnome is big enough to tell the tale?